Below Deck Season 3 Cast ★ Where are they now? Then \u0026 Now
Below Deck Season 3 Cast ★ Where are they now? Then \u0026 Now
Below Deck Bravo Star Dishes On What Filming On A Boat During Quarantine Was Actually Like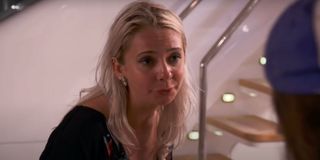 After eight popular seasons and much yachty drama, Below Deck finally saw another one of its water-treading spinoffs come to fruition last year. With Below Deck Sailing Yacht, the boat might be smaller, but the drama is much more heightened. One of the stars of Sailing Yacht's second season spoke of such drama when candidly speaking about the perils of filming on a boat during quarantine. Suffice to say, it does not sound pretty.
On land, the quarantine was and is still a nightmare sitch – but at least it affords people some basic freedoms. But according to Sydney Zaruba, a deckhand aboard the Below Deck Sailing Yacht for Season 2, filming on the water meant the crew faced even stricter rules that might have fueled all the drama on the lower deck. Speaking on Instagram Live with second stew Aesha Scott of Below Deck Mediterranean, Zaruba said,
Because of COVID, we were in this little bubble and not allowed to leave our bubble because there were so many tight quarantine restrictions for us. It was a bit of a hectic season, in that sense. It was very interesting to do a charter season during coronavirus, for sure. . . . We had very strict restrictions where we could go. We were kind of separated the entire time from the general public because we didn't want to endanger any of us or even on the production side of things… Of course, the charter guests as well. We only had, like, each other for our entire six weeks. Just the nine of us. Like, I need to see somebody else right now! I need to get off this boat immediately.
Below Deck Sailing Yacht Season 2 began filming last year in Croatia, one of the few places in the Mediterranean that was open for traveling. But unlike the last season, the Parsifal III crew had no nights out on the town because of the quarantine rules. This is exactly why seeing the upstairs/downstairs dynamic is so compelling and enduring: the rich charter guests can pay exorbitant amounts to fly out during a pandemic and the yacht crew is faced with earning their money through restrictions. Sydney Zaruba elaborated that the isolation rules, though, insured everyone's safety, but at what cost?
Fans of Below Deck are accustomed to seeing the confined quarters playing a huge role in the crew's bickering. Even in this last season of Below Deck, we saw stewardess Elizabeth Frankini and chief stewardess Francesca Rubi at odds, culminating in Frankini's firing from the show – all because they could just not get along. But on a sailing yacht, the tension seems to be doubled that to reflect the smaller setting.
The trailer for Below Deck Sailing Yacht teased that, despite the quarantine rules, the crew still found ways to party (and argue). In the clip, the crew was shown to be embroiled in everything from a dock crash to drunk boatmances. Even the season's new chief stew Daisy Kelliher said as much in a different Instagram live session:
There was definitely a lot of sex. I don't know if it was COVID, I don't know if it was people hadn't been around other people in a while, I don't know what was going on, but there was definitely something in the air. I was like, 'Wow, this is a lot.' Even for yachties, it was a lot.
Sounds like lots of love and hate and everything in between was going around. Check out Sydney Zaruba's IG Live below, where she talks about how alcohol played into the in-fighting.
The coronavirus was only just slinking into the U.S. during the filming of the last Below Deck season, but it is in full force for Season 2 of Below Deck Sailing Yacht. Tune into Bravo on March 1 at 9:00 p.m. to see how it all shakes out.
CINEMABLEND NEWSLETTER
Your Daily Blend of Entertainment News
Freelance writer. Favs: film history, reality TV, astronomy, French fries.
Your Daily Blend of Entertainment News
Thank you for signing up to CinemaBlend. You will receive a verification email shortly.
There was a problem. Please refresh the page and try again.